July 27, 2020 This year I have the privilege to once again participate in the Land Trust of Jackson Hole's yearly project titled "WyoView", one of 10 invited artists. This year the full title is WyoVIEW 2020 – OPEN. WILD. CONNECTED.
My assigned conservation easement property was the Walton Ranch. While a bit of the ranch can be seen while driving past on Highway 22, the property extends northwards in breathtaking view. While I was concerned that I would interfere with the current haying operation, which is a huge undertaking, Bill, the ranch manager, and his wife Carol, couldn't have been more welcoming. Though Bill said I could drive around on the roads through the property, I decided to walk, which would bring me closer to the land. I observed views that I would have missed driving by.
It was heartachingly beautiful and I treasure the experience. Ravens and hawks above, the smell of fresh mown hay, dazzling clouds, the Tetons gracing every turn, with thick cottonwood forest bordering the western edge by the Snake River. I realized how fortunate the valley is to have an easement on this property.
The most difficult part was deciding which view to focus on for only three paintings. I mulled over this year's WyoView mission of Wild, Open, Connected. These individual characteristics were evident in all directions. (I may have to continue painting beyond these three pieces.)
I hope you enjoy the paintings, hopefully living my experience, and will consider purchasing them to further the Jackson Hole Land Trusts legacy of protecting open spaces, wildlife habitat, working lands and community spaces across Northwest Wyoming that inspire current and future generations.
The paintings will be live on the Jackson Hole Land Trust website beginning August 3 for bidding/purchase, and their 40th annual (virtual) picnic and program will be on August 9. Please check out this link for more information on the WyoView project and the picnic (you can order a very yummy picnic meal to eat while watching the virtual program!) .
https://jhlandtrust.org/2020picnic/?utm_source=Jackson+Hole+Land+Trust+General+Interest&utm_campaign=d86439e90c-EMAIL_CAMPAIGN_2020_02_25_10_18_COPY_01&utm_medium=email&utm_term=0_212aa16da4-d86439e90c-107347253
Each of the paintings is framed (framed size 11 x 12) , watercolor on gold or silver shikishi board, $325 each.
50% of the sale price is donated to the Land Trust
Wide Open Spaces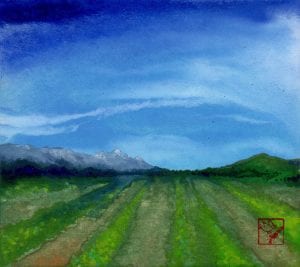 Wild Wings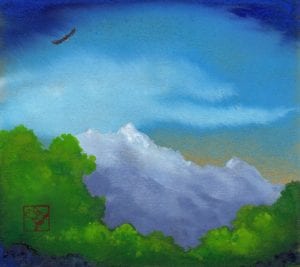 Stewardship – The Human Connection