January 24, 2017 Wow, first post of the new year, and it is a big one. It is a little scary – I am introducing my "alter ego" for the first time. First let me tell you that I am NOT abandoning my splash and pour watercolors on shikishi boards. I love painting them, they are close to my heart, they excite me still and I will always paint them. BUT every artist experiments and pushes the envelope at some time. Sometime these wanderings in the studio don't make it to the light of day. But I have been pursuing this additional direction for several years now and am very excited by it as well. I have developed a solid recognizable style that I am now comfortable introducing. let me warn you, however – it is abstract.
What I call my "Natural Abstractions" are watercolor + wax works focus on amazingly colorful natural occurrences that scream for exploration/exploitation/abstraction in an artist's studio – from the bizarre and beautiful hot springs of Yellowstone to the mysteries of stellar nebula or northern lights in our night skies. My artwork always has presented more of the essence of a subject, rather than a realistic representation and this series/medium does as well, but even more so. In fact, I mean for my viewer to participate in deciding what the subject actually is. As usual, vivid colors are my signature, though an occasional monochromatic piece can be just as impactful.
People are familiar with watercolor as a medium and perhaps even encaustic wax. But I have combined both of these media in my work to present an interesting dichotomy. Watercolor and wax shouldn't even be able to mix, should they? However, each medium becomes obvious upon close inspection, and the view from farther away brings the suggested subject matter to light. The pieces themselves are splash and poured watercolors on rice paper, infused with encaustic wax (molten beeswax) that makes the paper translucent, allowing me to fuse layers together to create depth of color. You must investigate the new Encaustic descriptions and images under About the Artist and Portfolio, as well as three video snippets of the process in action under "What's New". Let me know what you think!
OCTOBER ASPENS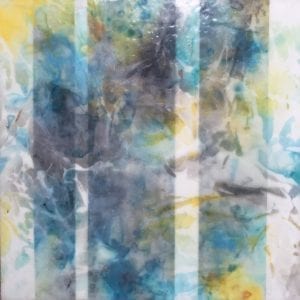 TANGERINE DREAMS AND MARMALADE SKIES