The sale of these two paintings will help benefit the worthy non-profit The Inner Pup of New Orleans. I became friends with co-founder Lindsay Goldring when she was the former executive director of the Animal Adoption Center in Jackson. Please go to their website to read more about their important mission "…to end the cycle of abuse, neglect and over population in shelters by way of prevention programs." 50% of the sale price of either will go directly to help them in their mission. Please contact me with any interest in purchasing either painting.
I like to share the stories and inspiration of my paintings. Below you can read how each came about:
Winter Repose image 16″x 24″, framed is 26″ x 34″ $3025 (donation to the Inner Pup would be $1513)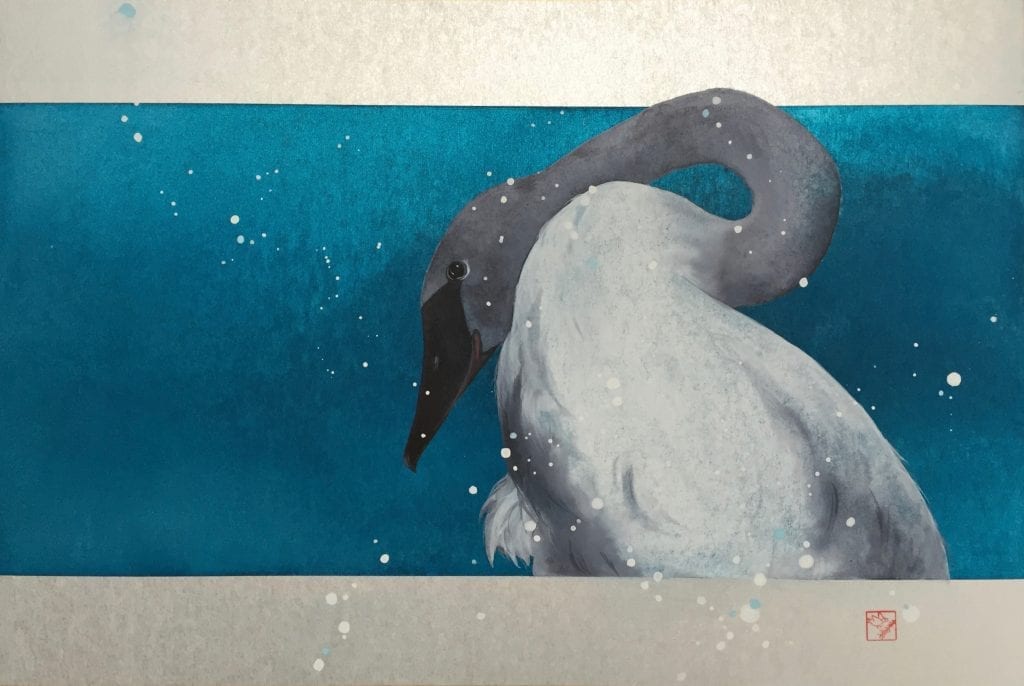 I was lucky enough to participate in the annual "swan roundup" that used to be held here in Jackson Hole. Volunteer help was needed to round up Trumpeter Swans in a program carefully designed to help build the population; measuring, tagging, taking blood samples etc. They are HUGE (about 4 feet tall!) and fairly docile once they are being held – on my lap! I just loved the attitude of this one (it is immature, note the gray, not white, neck and head) and the lovely shape his/her bent neck created. A painting simply had to be the result. It is my "artistic license" that allows me to change the season from summer to winter. It is "all about" the swan so I eliminated the background. I eliminated detail in the bird (only suggesting feathers in a few brushstrokes, and chose a striking color to accentuate the silhouette. The gently falling snowflakes happened when I was all done, I'm just sayin'…
Titles reflect how I am feeling, or how I hope the viewer feels. Creating the painting is easier for me than giving it a title. My desktop widget says "repose" means PEACE: peace and quiet, peacefulness, quietness, calm, or tranquility, and COMPOSURE: serenity, equanimity, poise, self-possession, aplomb.
Sleeping Indian Sunrise image 16″ x 12″, and framed is 23″ x 19″ $1825 (donation to the Inner Pup would be $913.)
The Sleeping Indian is the elegant mountain rising over Jackson Hole to the east, in the Gros Ventre Mountain range. I think some visitors overlook its beauty and interesting skyline because they are transfixed by the Grand Teton. But I also think that secretly The Sleeping Indian is the locals' favorite. For these colors to appear behind the mountain you know it is very early morning – sunrise. Anyone who has taken the early flight out of "the Hole" has seen this and taken the memory home with them as well.