October 7, 2016  The Quick Draw and Auction at the Fall Arts Festival is now a memory.  Here are a few photos of the process, plus the auction itself.  I was pressed to finish in the allotted 90 minutes.The finished painting was titled "Teton Aurora". I have seen northern lights twice in my life, and there was a display in Jackson Hole last year.  (How much time I had left determined how many stars I was able to reveal. Each star is created by a dot of water, scrub with a brush, remove the paint with a paper towel.  So to create the Milky Way would be a very time consuming process indeed.)  I have no problem having hundreds of people watch me paint and ask me questions, but I am really shy of getting up in front of those same people, with a microphone, to say a few words about my painting!
Finished just under 90 minutes: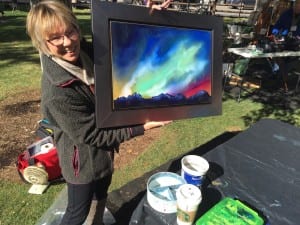 Paintings lined up, waiting for their turn on the auction block: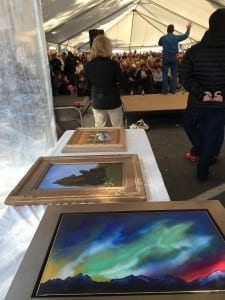 The auction tent covers nearly a city block:
Teton Aurora: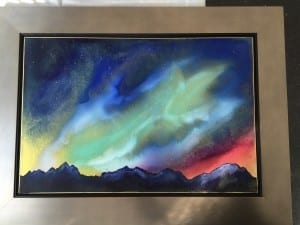 .