new post 9/3/13 – Summer is quite busy in Jackson Hole but I managed to get a series of small works painted while I was at our favorite spot in the mountains, the Darwin Ranch, fifteen 4″ x 5″ works, which are posted in my new "Small Works" gallery.  These will be exhibited in a solo show at the Flagstaff Arboretum Gallery  (in Flagstaff, AZ, of course) for the month of October.  I personally like to collect small works, they fascinate me, and my small studies are perfect for this purpose.
I am one of several creative folks included in a video by and exhibit curated by filmmaker Jennifer Tennican of JenTen Productions.  It is called "Into the Arts – A Personal Journey – Take 2".  It is about the risks and rewards of trying something new. As you may know, my artist friend, Alex Keenan, and I have been playing with hot wax, so to speak, in my garage studio.  Some of the encaustic pieces we have completed (subject of our portion of the film) and some other watercolors of mine (as contrast examples) are included in an exhibit at the Library Gallery as well.  VERY different than what you expect from my studio, hence the title of this post ("Of Bugs and Men").  I guess that molten wax, dead bugs and flame throwers make for interesting footage, so I hear.  (I haven't seen it yet.)  SEPTEMBER 4 is the debut. Thanks to sister-in-law Susan Hansen for the dead cicadas.  Not sure why she sent them to me, but I am glad to have them!  🙂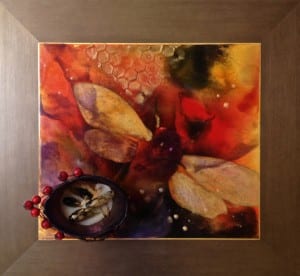 I will be painting at the annual Quick Draw on the town square during Fall Arts Festival in Jackson, Saturday September 14. It starts at 9 am and 35 artists have one and a half hours to start and finish (complete with framing) a piece which is then auctioned to a large rowdy crowd.  I invite friendly support!  Please come to watch.  People ask if I am terrified and the answer is no – I give demos all the time, I teach and am comfortable speaking while I am painting.   However my painting style is very spontaneous and if the painting is a flop I figure I can just pack up and slink away, no one for the wiser.  Cross your fingers.  If I have time, I will take some photos of the event and post them later.  In a  bit more relaxed atmosphere, I will be painting at Horizon Gallery (30 King Street) in the afternoon.