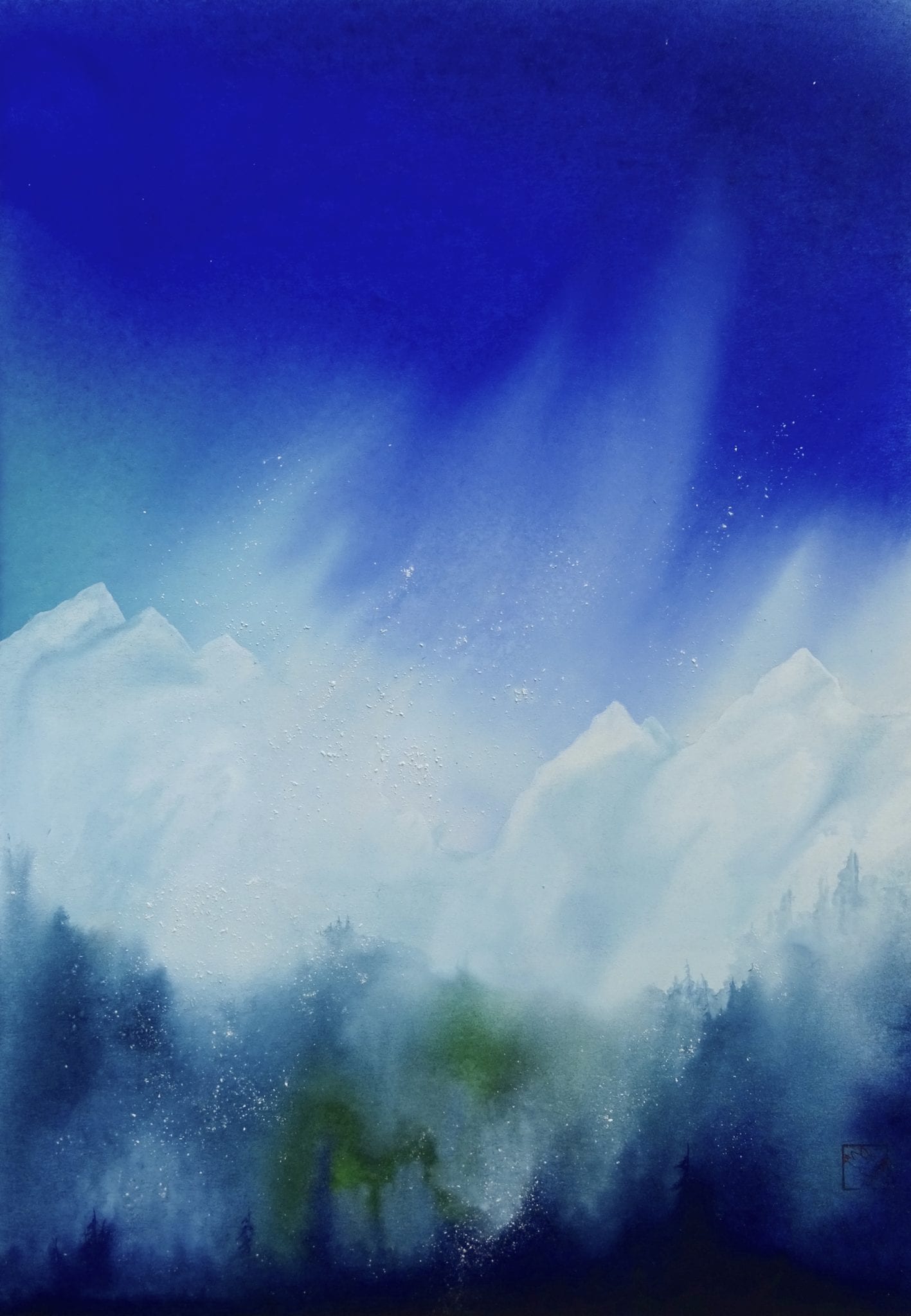 ...and so are frigid temps. That is the trade-off here: With beautiful sparkling clear blue skies come temperatures in the minus teens. But since I am quoting song lyrics (again) I'll just add, "Blue skies, smiling at me, nothing but blue skies do I see." I am definitely solar powered and my energy level perks up on these days. The painting above is an example of brilliant sun and snow, titled Sunday Snow Squall, 20"h x 14"w, and will be available at Raitman Art Galleries in Breckenridge, CO in time for my solo exhibit there, March 20 - April 24. If any of you spring skiers need an extra excuse, I'll be painting in the gallery March 21 - 22.


Below are two more examples of brilliant blue winter skies. I never cared for paintings of winter until I understood how beautiful it can be. And now I can't stop painting them. On the left is Mountain Magic, 24" x 16", available at Horizon Fine Art, and on the right is Wilderness Aria, 16" x 16", available at Terakedis Fine Art.
A completely different winter outlook is a painting I recently had accepted into the Governor's Capitol Art Exhibit, on display at the Wyoming State Capitol in Cheyenne through August 13, along with 63 other Wyoming artists, chosen from 340 submissions. I am quite honored. Titled "Winter Sun" (8" x 16"), it

was inspired by a walk near my home, looking south towards the Snake River into a frozen sky in January last year. The temp was -20 and the sun was valiantly, though weakly, trying to shine through heavy incoming snow clouds. Depicting suns and moons has become an obsession this past year for me. And yes, it is for sale :)
All of my galleries, listed below, and my home studio, have many "minis" to choose from if you are thinking of a special gift for someone else - or YOURSELF! Check out my website for examples of small works. They are mounted on uniform sized black wooden boxes to make collecting a series over time easy. 5.5"h x 6.5"w
Click on any of these links below to visit the website of each of the galleries that represents my work. If you are in Jackson Hole visit Horizon Fine Art (30 King Street, 307-739-1540) to view my work. I am also represented by Terakedis Fine Art, Billings, MT (112 N. Broadway 406-696-0149), and

Raitman Art Galleries

, Breckenridge, CO (100 N. Main St, 970-547-8399).
Please feel free to contact me any time to inquire about purchasing new work, old work, future work, gallery representation, commissions, via email (kay@kaystratman.com) or through my website
(www.kaystratman.com).
Periodically check out my blog which I call "Musings", on my website where I post some fun things in between newsletters, and

please visit and "like" my professional Facebook page
– called
Kay Stratman's Studio
, also with random fun art items. As

always

,

m
y
website
has been updated recently with
new images. Please forward my newsletter to anyone you think might be interested.
You have been sent this newsletter because of your previous interest in Kay Stratman's Studio. Unsubscribe information is below...