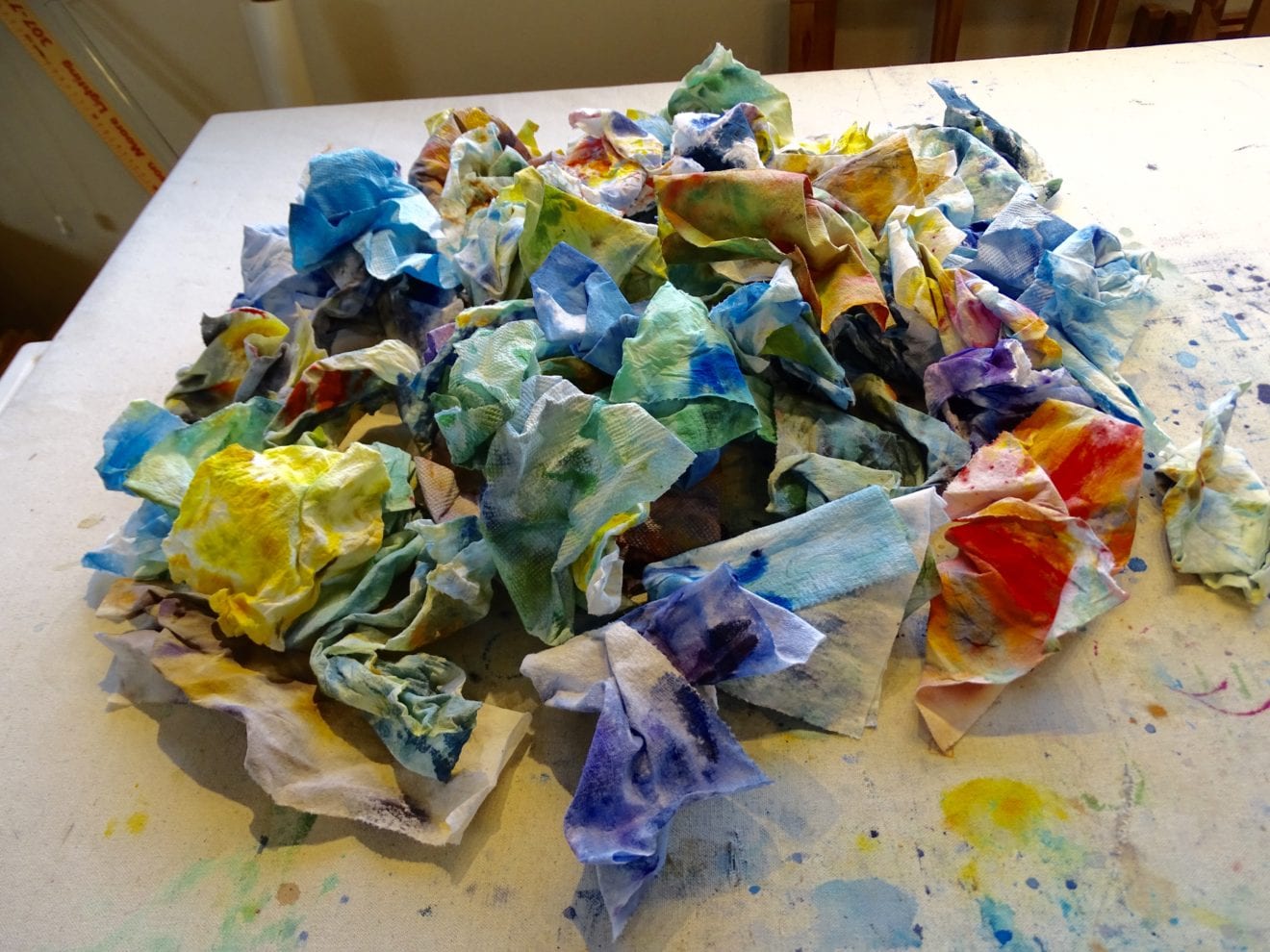 For some reason I decided to keep all the paint rags I used this summer/fall in my studio. I was just curious what colors would show up the most, and what they would look like en masse. Now I know, and they are headed to the fireplace. (Maybe that will make a fun photo too.) I like to let folks into my studio now and again to see how the "smoke and mirrors" actually work. Here is a progressive series to document the creation of Super Snow Moon:
The moon appears white in photographs but is actually the soft silver of the background shikishi board, which shows through the clouds a bit too. Must enjoy in person! This painting will be at

Raitman Art Galler

ies in Breckenridge,CO as soon as UPS can hook up their ponies.
Super Snow Moon 14 x 14 watercolor and gouache on silver shikishi.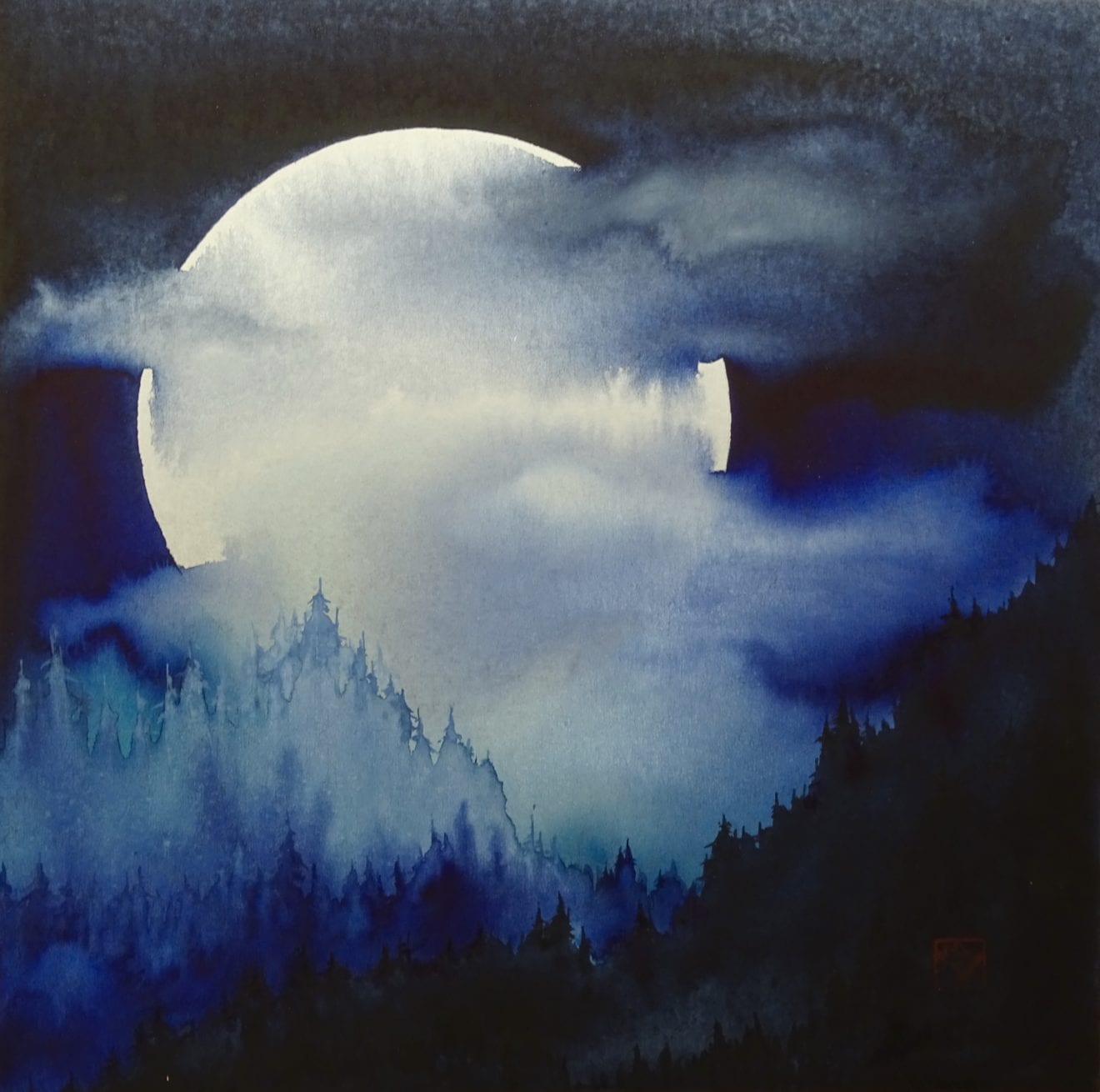 Blue seems to be the color I use most. (Go figure, I am in love with painting skies.) But a recent painting uses a much different color palette:
Low Country Light
13 x 10 watercolor on gold shikishi - at Horizon Fine Art in Jackson, WY
You can just feel the moist warmth of the sun burning through the mist.
Occasionally white-on-white-on-silver is my subdued palette. You can say a lot with a little. In my past sumi-e training the saying was that you should be able to portray "all colors in one color".
Sylvan Solitude 24 x 16 watercolor on silver shikishi - at Terakedis Fine Art in Billings, MT


All of my galleries, listed below, and my home studio, have many "minis" to choose from if you are thinking of a special gift for someone else - or YOURSELF! (I always give myself a Christmas gift :) Check out my website for examples of small works. They are mounted on uniform sized black wooden boxes to make collecting a series over time easy. 5.5"h x 6.5"w Now is the time to start planning ahead.
Click on any of these links below to visit the website of each of the galleries that represents my work. If you are in Jackson Hole visit Horizon Fine Art (30 King Street, 307-739-1540) to view my work. I am also represented by Terakedis Fine Art, Billings, MT (112 N. Broadway 406-696-0149), and

Raitman Art Galleries

, Breckenridge, CO (100 N. Main St, 970-547-8399).
Please feel free to contact me any time to inquire about purchasing new work, old work, future work, gallery representation, commissions, via email (kay@kaystratman.com) or through my website
(www.kaystratman.com).
Periodically check out my blog which I call "Musings", on my website where I post some fun things in between newsletters, and

please visit and "like" my professional Facebook page
– called
Kay Stratman's Studio
, also with random fun art items. As

always

,

m
y
website
has been updated recently with
new images. Please forward my newsletter to anyone you think might be interested.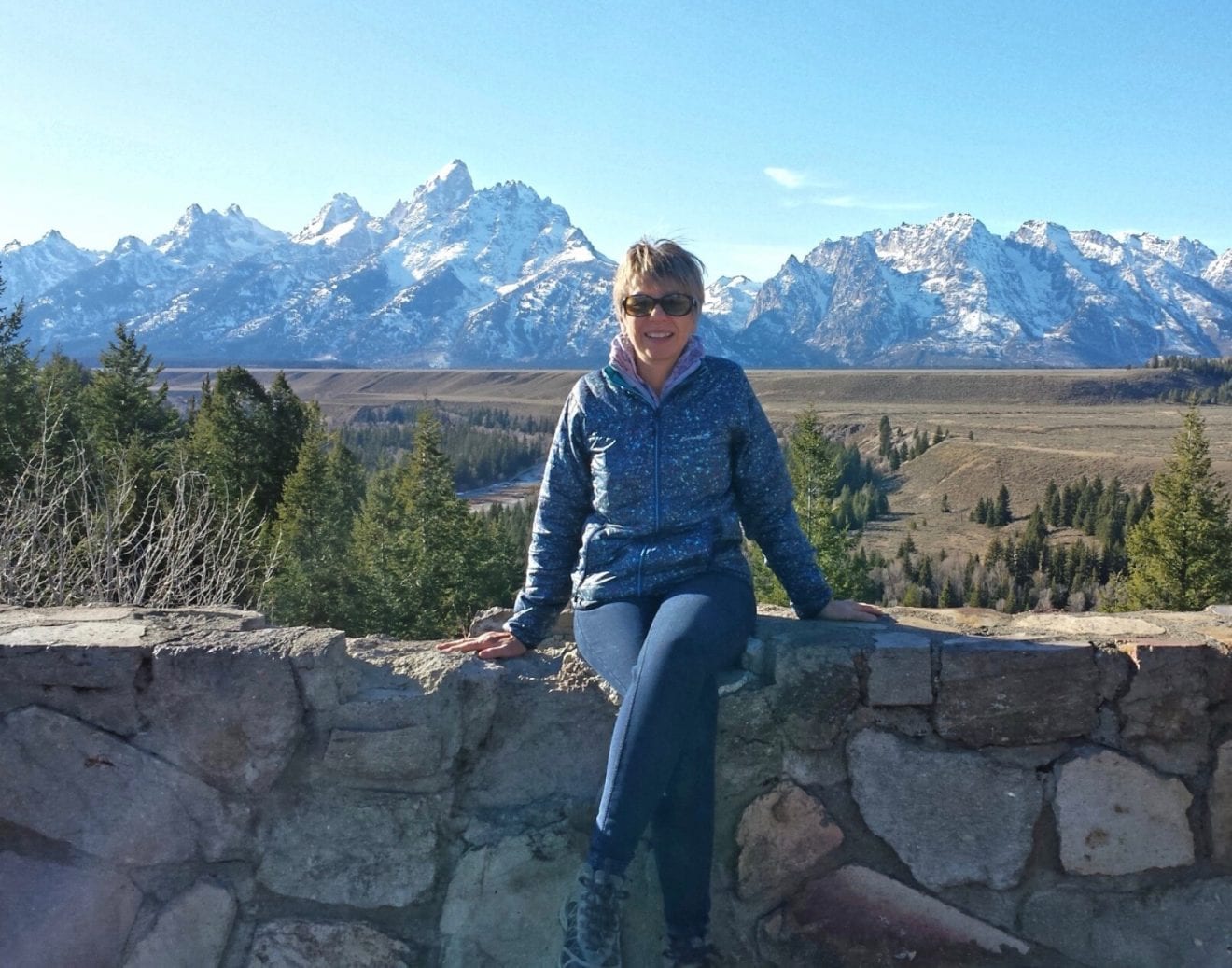 You have been sent this newsletter because of your previous interest in Kay Stratman's Studio. Unsubscribe information is below...