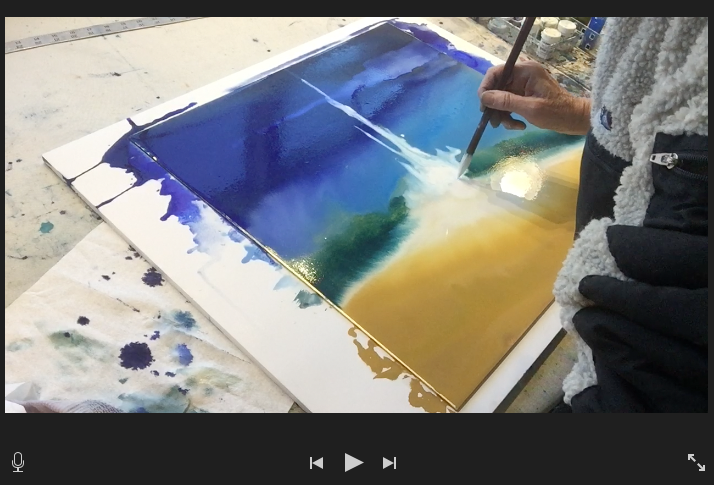 Hello dear friends and art lovers,


THERE ARE ONLY A FEW DAYS LEFT TO VOTE (until Saturday, January 9) for my painting, "Shaken, Not Stirred" which is one of 8 finalists in the Jackson Hole Still Works label competition - The link to vote is: http://www.jhstillworks.com/spirit-of-wyoming

I am told that the voting is quite close and competitive, so I am appealing to those who may have forgotten to vote yet. 😉 I have already heard from so many of you and I am overwhelmed by your support.


"Shaken, Not Stirred - The Movie" is now streaming! I hope you find it as fun to watch as I had making it. I condensed hours of video of the painting in progress into one short action packed film, complete with music, for your watching pleasure. I promise you don't have to watch paint dry, it is very suspenseful. "Will she drop her brush?" "Will she crush it or will she blow it?" Find out here: http://bit.ly/ShakenNotStirredMovie


If you missed the original newsletter, here it is in a nutshell, and please forgive the redundancy if you have already acted:


"Shaken, Not Stirred" has been chosen as one of 8 finalists in the Jackson Hole Still Works vodka label competition. Believe me, the competition is stiff - thousands of votes! I have always wanted to have my artwork on a label.
This year voting is online so people from all around the world can participate!!!

So do share this newsletter, if you wish.
The link to vote is: http://www.jhstillworks.com/spirit-of-wyoming

One vote per person is allowed.

Though there is a $5 fee to vote - please note that 100% of the proceeds from the contest, including auctioning the painting, benefit the WYOMING ARTS COUNCIL. The owners of the distillery are big arts supporters. (The winner does get a cash prize as well, and their painting on the label of the bottle for a year. 🤗 )
Below are images of the actual painting, and how it would appear on the bottle. I created this painting specifically for this competition - knowing that the artwork distorts (enlarges) behind the vodka and glass,

I planned it for the perfect explosive "geyser" effect.
Please share this info - The winner is decided by popular vote. I am probably the oldest fogey artist in the finalist line up, therefore the least social media savvy. Again, I so appreciate your support.


Please contact me to inquire about available work, gallery representation and commissions, via email (kay@kaystratman.com), or through my website, or social media using the symbols below.
Periodically check out my blog which I call "Musings", on my website where I post some fun things in between newsletters
. As

always

,

m
y
website
is always up to date with
new images. Please know you can forward my newsletter to anyone interested.
Click on these links below to visit the websites of the galleries that represent my work.

If you are in Jackson Hole, Wyoming visit Horizon Fine Art, 30 King Street, 307-739-1540
If you are in Breckenridge, Colorado visit

Raitman Art Galleries

, 100 N. Main Street, 970-547-8399