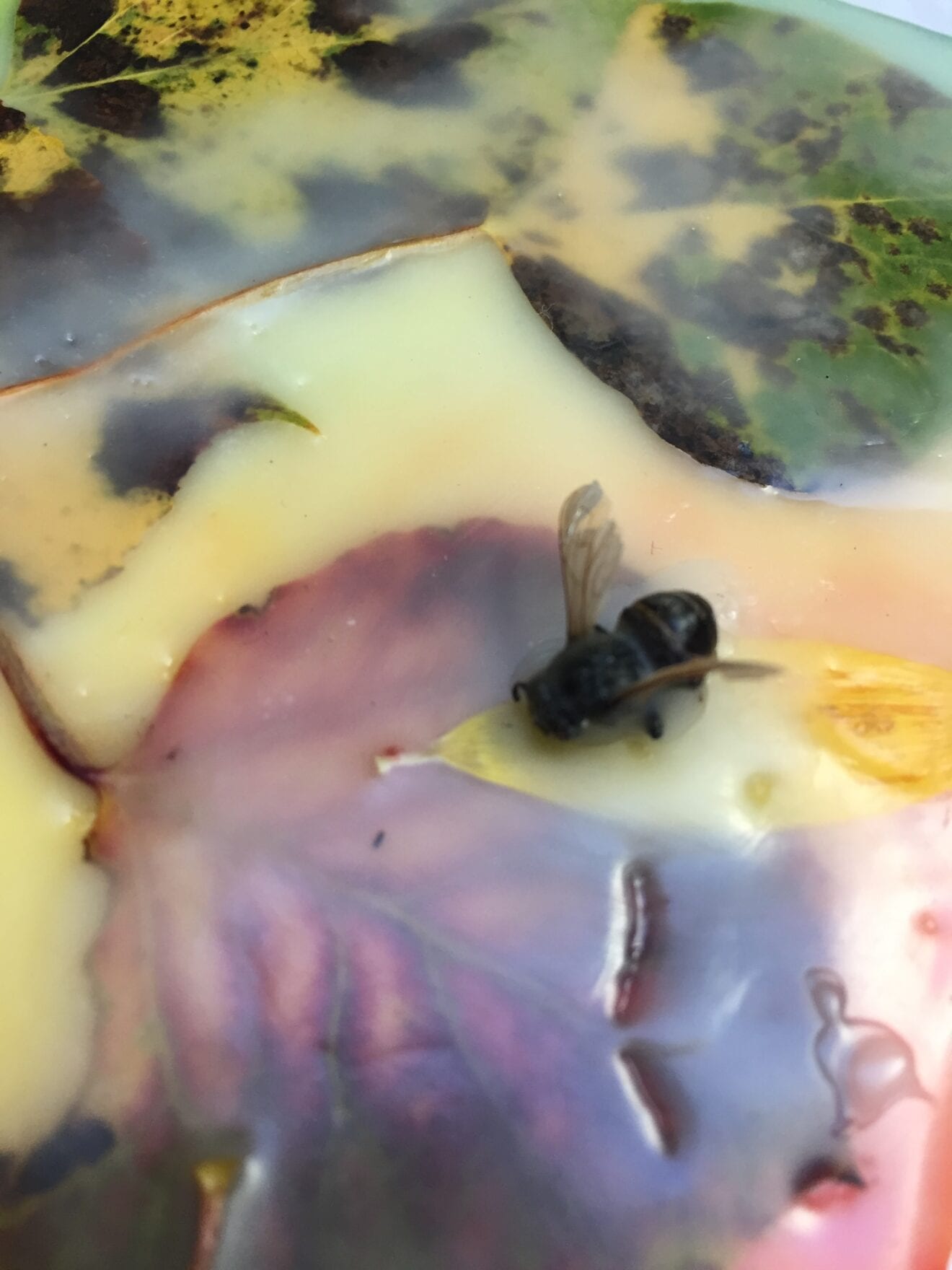 Hello friends and art lovers,


I hope this is a good read, something to take your mind off of everything else. Grab a cuppa and take your time….


Amazingly, I have still been busy creating art, after the summer visitors to Jackson Hole have gone home. (I am always busy outside - hiking, walking dogs.) I am extremely grateful to the galleries that represent me and who continue to find good homes for my paintings (my kids). Find their links at the bottom of the newsletter. However right now I have been having a grand time in my "hot wax studio". Curious? It is because fewer people have seen my encaustic works. Encaustic is a Greek word for "to burn in". It involves heating beeswax to 200 degrees, and in my case, I layer it with watercolor infused rice paper and found natural objects like leaves and bugs.


Lately my focus has been on my Pollinator Project: after learning of the sad Monarch Massacre in Fargo this summer, I burrowed down to learn more about the plight of pollinators. A fuller explanation is in my website, both in my blog "Kay's Musings", and in my portfolio under "Pollinator Project". Though we have had below zero temps here already, I am hopeful we will yet have a few more days of warm-ish weather and I will finish up a few more pieces. Since I create this auxiliary wax studio in my garage, it is dismantled when I want to park my car inside, which is all 6 months of winter.


I am thrilled to present this series to the universe. Horizon Fine Art will be featuring this collection for the holidays. (I will be demonstrating - with my blowtorch.)
Also keeping me busy is meeting (through Zoom) some fantastic women. I reconnected with Hope Katz Gibbs, whom I met in Washington, DC 15 years ago. Now living in New Mexico, she publishes an online magazine called InkandescentWomen.com. Here is a link to an interview with me that was published in the October issue:
And here is a link to a video interview I also did with Hope on her Inkandescent TV presence on YouTube: https://bit.ly/StratmanInterview (I know! I don't usually do video interviews. This is a rare event. 😉 )


I'll let you know of a few upcoming podcasts that I have participated in as well. I am stretching my comfort zone with these, because I have always said that I am much better with paint than words. You can be the judge.
Do you remember Tie Tracks? Maybe some of you are new and never knew about it. At least 22 years ago I created a business called Tie Tracks where I hand painted silk ties with animal tracks and nature inspired designs. For 16 years I sold to gift shops, museum shops and directly to men who would rather not wear a tie. (Is that you??) I figured if there was a design that connected to them personally they might be more inclined to wear one. Now that I am focused on my fine art career, I have at least 100 hand painted ties in storage that would love a home. And now they are "vintage", which is always in style! 😊 How about having a bit of fun on one of those Zoom calls, either business or a Zoom wine tasting or Zoom holiday party? We know you are wearing sweat pants below the waist, but heck, forego the silly sweater and impress your friends with your sartorial style from the waist up. They are very reasonably priced at $20 each. The BONUS is that I am donating one tie for every tie purchased, to a gentleman in need of a tie – to help dress for success.
Oh, and just to remind you, all of my artwork is for sale. Contact me, or my galleries, with inquiries. Start to think now about any special presents you may want to give.
Small works are my specialty too, if you didn't know.
Please contact me to inquire about available work, gallery representation and commissions, via email (kay@kaystratman.com), or through my website, or social media using the symbols below.
Periodically check out my blog which I call "Musings", on my website where I post some fun things in between newsletters
. As

always

,

m
y
website
is always up to date with
new images. Please know you can forward my newsletter to anyone interested.
Click on these links below to visit the websites of the galleries that represent my work.

If you are in Jackson Hole, Wyoming visit Horizon Fine Art, 30 King Street, 307-739-1540
If you are in Breckenridge, Colorado visit

Raitman Art Galleries

, 100 N. Main Street, 970-547-8399