A Force of Nature 20" x 24" watercolor on gold shikishi board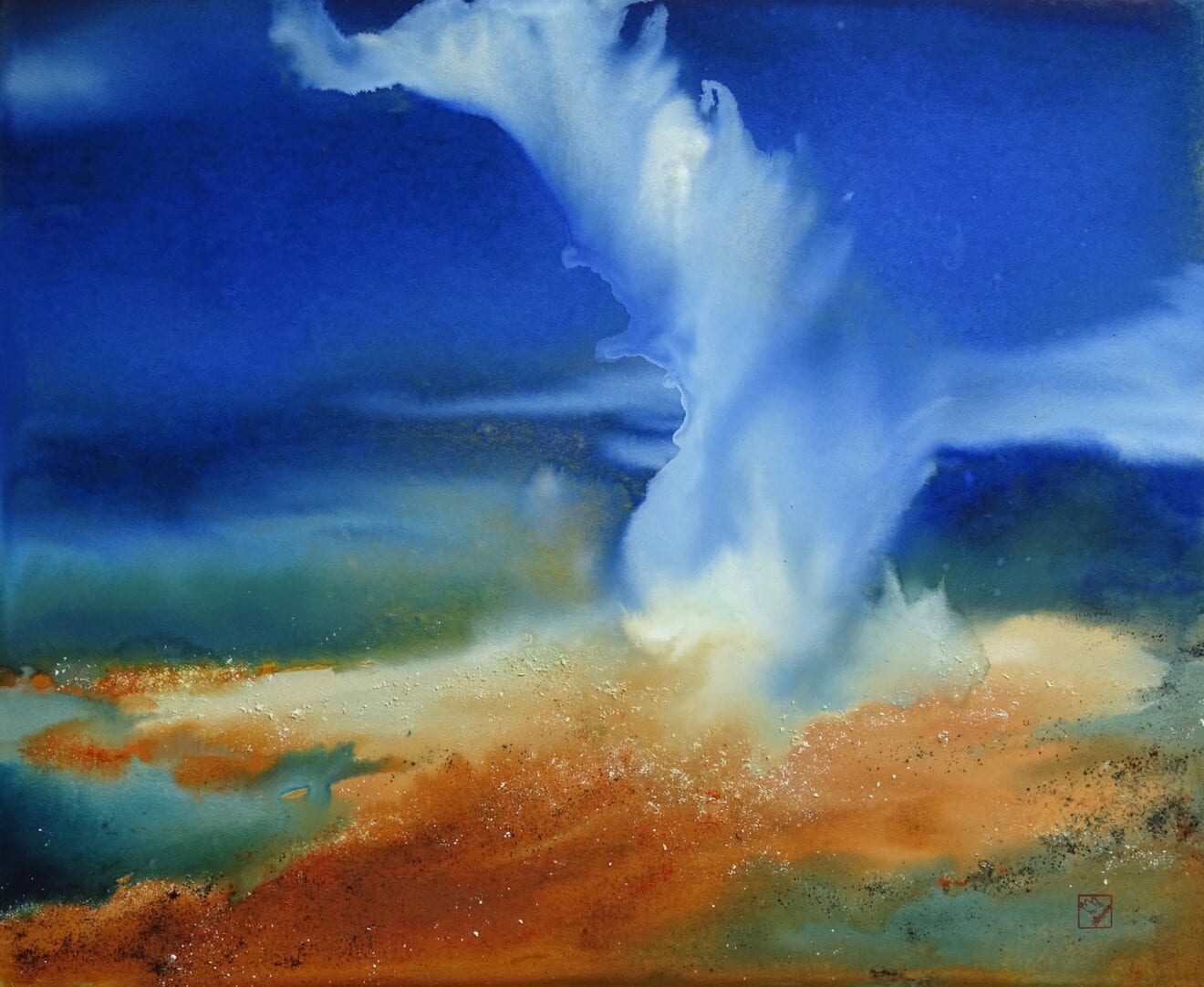 I'm not ready to throw in the towel on summer. We eke out every warm minute here in the mountains, but I peeked at the weather forecast for this week and the number "32" was in there somewhere. Yikes. (It is only cold overnight – we have 40+ degree swings from night to day.) Hiking, camping, rafting and fishing were on the non-work agenda, with lots of painting when I managed to stay home. We are so fortunate to be minutes from wilderness and easy social distancing.
The annual weeklong Fall Arts Festival will be held in Jackson, with some alterations to keep everyone safe. I will be participating once again in the QUICK DRAW on SEPTEMBER 19TH on the Town Square. This year it will also be streamed online so you all will be able to watch me splash and pour paint around from the comfort of your own home, and bid on my piece as well!


Quick Draw Time Schedule, (Mountain Time):
Note: The photo of me in the Quick Draw catalog is from last year. This year I will paint a geyser, which will be titled "

Rising To The Occasion

", since geysers are quite fun to watch as I paint. (It is actually kind of scary for me to paint this subject with people watching!) It will be similar to the image at the top of the newsletter, which is available at Horizon Fine Art (30 King St.) I have recently delivered many new works to Horizon in anticipation of the Fall Arts Festival. Come visit me at the gallery after the auction.
Summer brought an interesting project to fruition. I was one of nine artists chosen by JH Public Art for a city-wide art installation called WILD WALLS. Nine temporary murals have been wheat pasted at locations around the Town of Jackson, with a twist - Augmented Reality features transform the static image into an animated story. Viewers are prompted to download an app onto their mobile device to watch each mural come to life. My painting "Shaken, Not Stirred" is #5 on the map you will find at the JHPublicArt.org website.


The intent is to promote a greater understanding and awareness about local water quality issues. Protect Our Waters JH provided educational content and solutions that demonstrate how individuals can help to preserve and protect local water quality. The message is clear: The Time is Now to Protect our Waters.
Thank you to Raitman Art Galleries in Breckenridge, Colorado for being intrepid during this unusual year. Though my solo exhibit was cancelled in March, they did a fabulous job presenting it in July, and I traveled there to paint in the gallery, seeing the space for the first time and meeting all of the wonderful staff. It was also my first visit to Breckenridge – it is a great small mountain town. (Precautions were in place citywide, and I felt safe and comfortable throughout my visit.)


The Mountains Are Calling 24 x 20 triptych, watercolor on 3 shikishi boards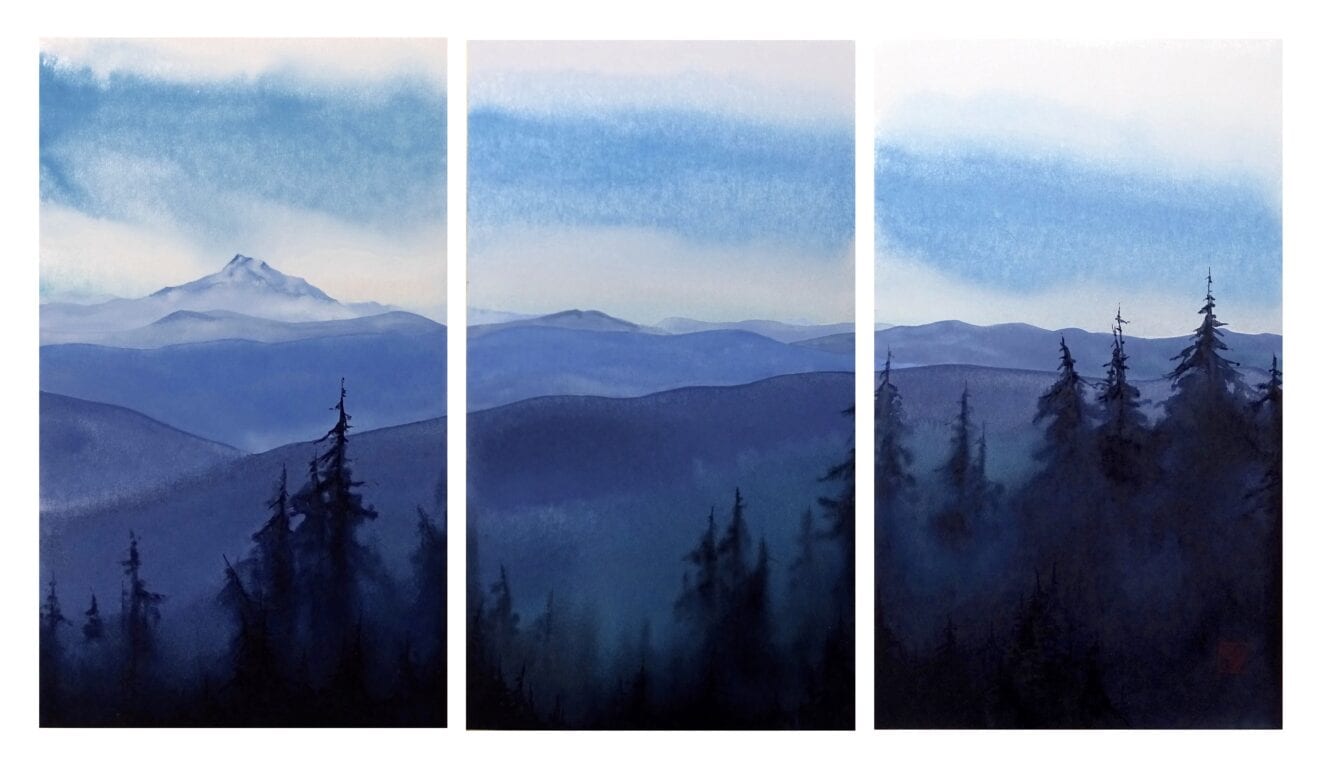 I'll leave you with one of my favorite "memes" and heartfelt wishes for you all to stay safe, healthy and happy.
Please feel free to contact me to inquire about available work, gallery representation and commissions, via email (kay@kaystratman.com), or through my website, or social media using the symbols below.
NEW is my YouTube channel: KayStratmanStudio
Be well, please stay in touch,
Periodically check out my blog which I call "Musings", on my website where I post some fun things in between newsletters
. As

always

,

m
y
website
is always up to date with
new images. Please know you can forward my newsletter to anyone interested.
Click on these links below to visit the websites of the galleries that represent my work.

If you are in Jackson Hole, Wyoming visit Horizon Fine Art, 30 King Street, 307-739-1540
If you are in Breckenridge, Colorado visit

Raitman Art Galleries

, 100 N. Main Street, 970-547-8399