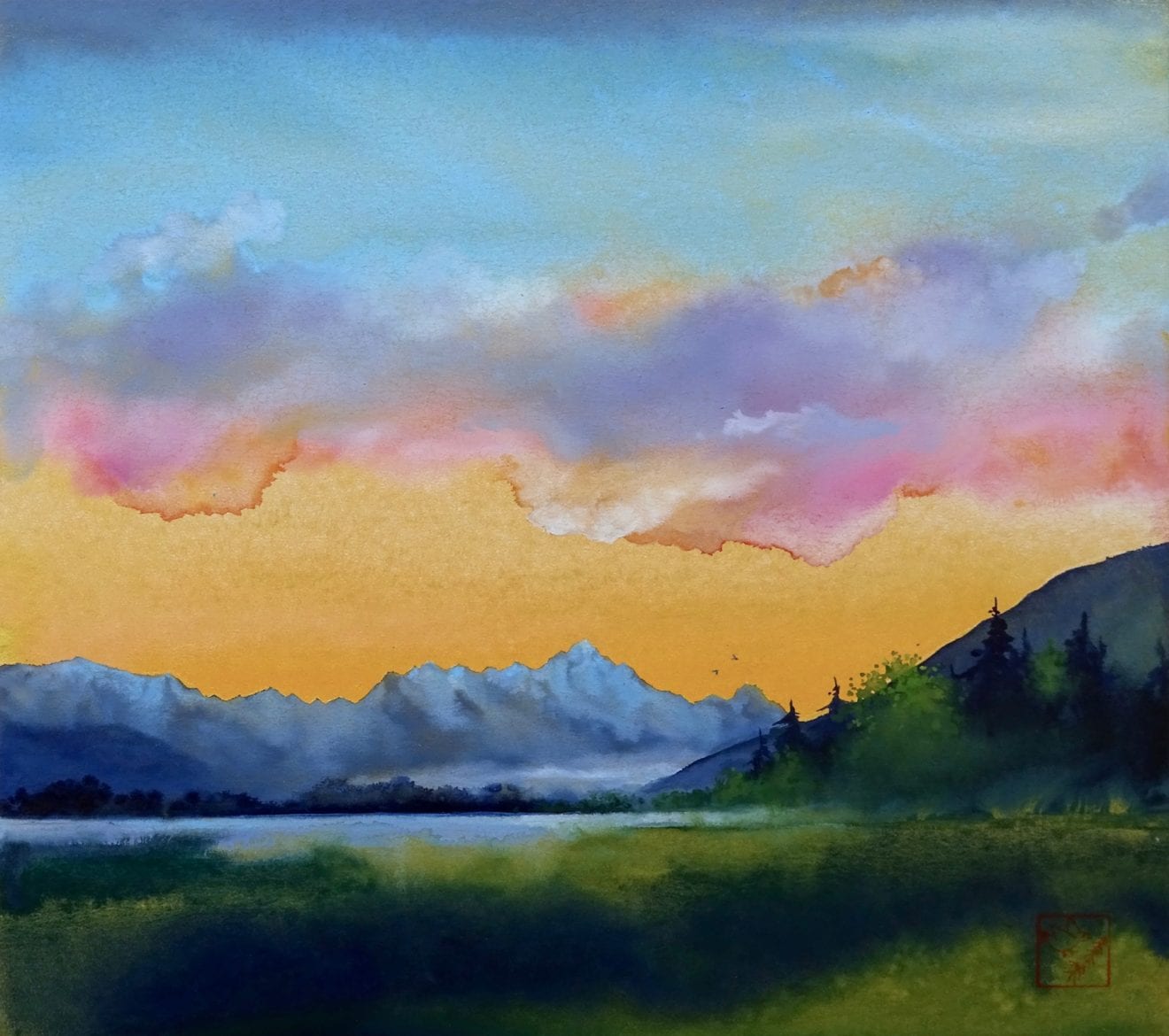 South Park Sunrise 10" x 11" watercolor on gold shikishi board
I hope you all have been safe and healthy. We are all still in a holding pattern and making adjustments as needed. Spring is a little late in Jackson Hole (it always is) so I have been painting my spring fantasies and hoping they come true. Above is one of my favorite views - when the mountains are still coated with snow and the valley is green, green, green. Though we can now get out into the mountains to hike, my recent focus has been a new series of paintings of views from my neighborhood, Melody Ranch. It just seemed like a good thing to focus on while hunkering close to home. People don't realize what a gem the southern end of Jackson Hole is and I hope to showcase my faves from every compass point.


I Dreamed I Was Flying 11" x 10" Watercolor on silver shikishi board
Below are some more views that have inspired my new series, which I think I may title "Mountain Melody". Keep watching as they turn into paintings, but don't expect them to look exactly like the photo. I use my artistic license freely!


Please feel free to contact me to inquire about available work, gallery representation and commissions, via email (kay@kaystratman.com), or through my website, or social media using the symbols below.
NEW is my YouTube channel: KayStratmanStudio
Be well, please stay in touch,
PS. My exhibit at Raitman Art Galleries that I wrote about in my last newsletter will hopefully be rescheduled. I will definitely let you all know when that happens.
Lucky Labrador (and Big Bunny and Big Bear) send you their best wishes.


Until I get a new current photo taken, I will entertain you with "throwback" photos. :)
Periodically check out my blog which I call "Musings", on my website where I post some fun things in between newsletters
. As

always

,

m
y
website
is always up to date with
new images. Please know you can forward my newsletter to anyone interested.
Click on these links below to visit the websites of the galleries that represent my work.

If you are in Jackson Hole, Wyoming visit Horizon Fine Art, 30 King Street, 307-739-1540
If you are in Breckenridge, Colorado visit

Raitman Art Galleries

, 100 N. Main Street, 970-547-8399