I had a solo exhibit planned at Raitman Art Galleries in Breckenridge, Colorado starting today…however, the gallery has understandably temporarily closed. Although I am sad about the circumstances, we know that it is due to the life-saving precautions the whole country is taking regarding everyone's health and safety. We will reschedule the show in the future so please stay tuned for updates.


I have been outside walking dogs and I am also inside my studio a lot these days. I have learned a new skill, of which I am sharing with you for the first time! I have created a catalog of these paintings using something called "Flipsnack." I know - it's a fun name. (I, for one, am enjoying cute puppy videos, now more than ever, on the Internet.)


Since many of you will also miss seeing my show in person, here is the perfect opportunity to sit back, relax and be captivated by images of nature in your own easy chair. Perhaps these paintings will remind you of some of your happy places.


It is easy to view the show:

Click the blue button below and it will take you directly to the catalog
From there, click on the shaded Full Screen button in the middle of the image (right above the elk) for best viewing
Click on the right arrow to advance the pages
In addition, I will include the catalog on my website under What's New > Events and Exhibits. As always, I love to hear your comments and you are welcome to share this newsletter with your friends.


Please be safe and healthy. Let's catch up in person as soon as possible.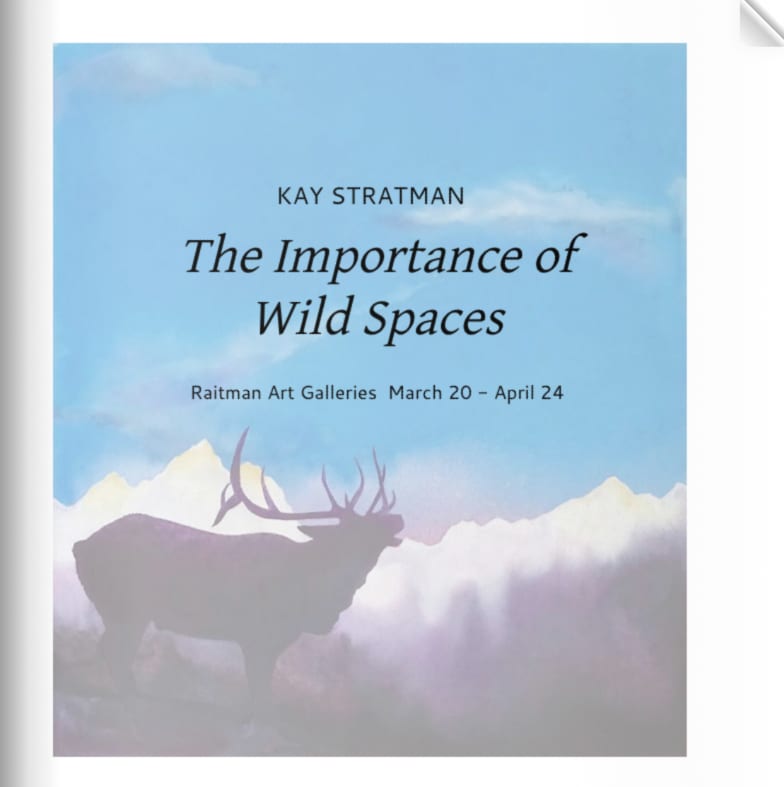 These photos illustrate the last 4 months of preparation for the exhibit, including my "helpers" in the gallery, packing, shipping and my studio after cleanup.
Click on any of these links below to visit the website of each of the galleries that represents my work. If you are in Jackson Hole visit Horizon Fine Art (30 King Street, 307-739-1540) to view my work. I am also represented by Terakedis Fine Art, Billings, MT (112 N. Broadway 406-696-0149), and

Raitman Art Galleries

, Breckenridge, CO (100 N. Main St, 970-547-8399).
Please feel free to contact me any time to inquire about purchasing new work, old work, future work, gallery representation, commissions, via email (kay@kaystratman.com) or through my website
(www.kaystratman.com).
Periodically check out my blog which I call "Musings", on my website where I post some fun things in between newsletters, and

please visit and "like" my professional Facebook page
– called
Kay Stratman's Studio
, also with random fun art items. As

always

,

m
y
website
has been updated recently with
new images. Please forward my newsletter to anyone you think might be interested.
Lucky Labrador sends you his best wishes through his favorite toy - "Donut".
You have been sent this newsletter because of your previous interest in Kay Stratman's Studio. Unsubscribe information is below...